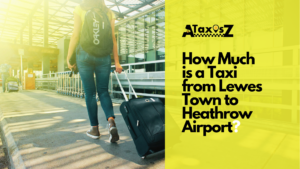 Lewes Taxi Prices to Heathrow Airport
Taxi to Heathrow from Lewes Town, UK to Heathrow Airport can be an exciting adventure. Yet, one of the initial questions that come to mind is, "How much will a taxi cost?" In this comprehensive guide, we'll delve into the pricing details, travel times, and everything you need to know about Heathrow Airport Taxis. Additionally, we'll provide answers to the most common questions about this topic, ensuring a smooth and well-informed trip.
A Taxi from Lewes Town to Heathrow Airport
When planning your trip to Heathrow Airport or Luton Airport, it's essential to have a clear understanding of the taxi fare. Taxi prices can vary based on several factors, including your starting location. To provide you with an accurate picture, here's a breakdown of estimated taxi fares from different areas near Lewes to Heathrow Airport:
| Areas Near Lewes | Estimated Taxi Fare to Heathrow Airport |
| --- | --- |
| Lewes Town | £140 – £220 |
| Ringmer | £160 – £190 |
| Newhaven | £170 – £200 |
| Uckfield | £180 – £210 |
| Brighton | £190 – £220 |
Please keep in mind that these fares are approximate, and actual prices may fluctuate based on factors such as our taxi company, time of day, and your precise location within Lewes.
Journey Time to Heathrow Airport:
The duration of your journey from Lewes Town to Heathrow Airport hinges on traffic conditions and distance. On average, you can expect the travel time to range from 1.5 to 2.5 hours. It's advisable to allocate some extra time, especially during peak traffic hours, to accommodate potential delays.
About Heathrow Airport: Connecting the World
Heathrow Airport, situated to the west of London, is renowned as one of the United Kingdom's busiest and most well-connected airports. Serving as a global gateway, Heathrow boasts an array of amenities, including a wide range of restaurants, shops, and passenger lounges. For up-to-date flight information, ticket bookings, and access to airport services, you can visit the official Heathrow Airport website at Heathrow Airport.
Lewes: A Quaint Town in East Sussex
Lewes, nestled in the picturesque landscape of East Sussex, is known for its historic charm and scenic beauty. It's a popular starting point for travelers heading to Heathrow Airport. The town offers a blend of charming streets, historic landmarks, and a vibrant local culture. Taking some time to explore Lewes before your journey to the airport can be a delightful experience.
Frequently Asked Questions about Taxi Travel from Lewes to Heathrow Airport:
How much does a taxi from Lewes Town to Heathrow Airport typically cost?

The estimated fare falls within the range of £150 to £180, contingent on your departure location.

What is the approximate travel time from Lewes to Heathrow Airport?

Travel times generally span from 1.5 to 2.5 hours, factoring in traffic conditions.

Is A-Z Taxis in Lewes a recommended service for this journey?

A-Z Taxis Lewes is a reputable taxi service, but it's prudent to compare various services and prices before finalizing your booking.

Can I make an advance booking for a taxi at a specific departure time to Heathrow Airport?

Yes, many taxi companies, including A-Z Taxis, offer advance booking options, ensuring your ride is ready when you need it.

Are there alternative transportation options to Heathrow Airport from Lewes?

Certainly, you can explore other options such as trains or coach services, each with its own cost and travel time considerations. Click Here to Book a Lewes Taxi Now.